Community Action
Our West Lancashire believe that improvements in our towns, villages and estates often come about when local people work together either through campaigns to the authorities or by acting directly.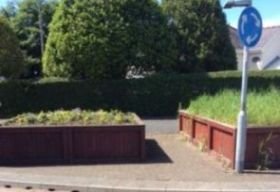 In June, we completed an early summer makeover of the planter we've adopted near Hattersley's Retail Park in Ormskirk after the councils abandoned them. You can see our original video at the foot of this page, while this photo shows the difference between our planter and the councils'.
Another recent Community Action Day was at the churchyard to the rear of Ormskirk Parish Church. Two dozen volunteers turned up to weed and tidy with the permission of the Church Council. The parish has an enormous duty in preserving the historic 12th century church which takes a lot of funding. The action day supplemented the grounds maintenance and as you can see from the photos made quite a difference.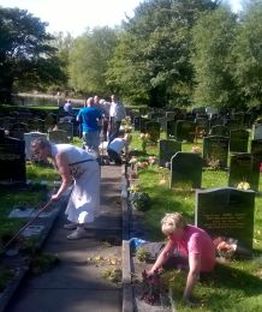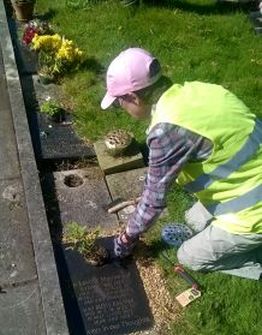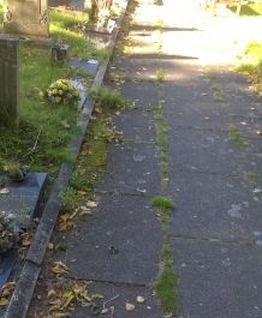 Have you a suggestion for our next Community Action Day? If so, please contact us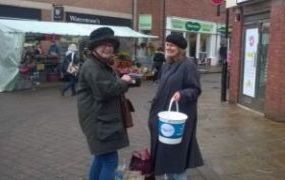 We've also worked with Ormskirk's Wellbeing Centre for older people on a street collection in the town centre. The Centre had ALL its council funding cut but is still very much open for business. The generosity and support of local people went a small way to closing the funding gap.
Litter picks also feature and last year we undertook some "extreme" litter picking in the brambles and thorny bushes along the footpath at the rear of Hattersley's Business Park in Ormskirk.
2015 Community Action
In August we worked with WLBC Rangers and local residents (pictured left) to clear and maintain Ruff Wood in Ormskirk for the enjoyment of local residents while in October we stepped in to renovate a prominent roadside planter while the respective councils squabbled over maintenance and responsibility. Again we took a video which you can watch below.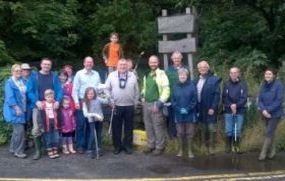 Our first Community Action session took place in spring 2015 and you can watch a short video of it below.
If you can spare a couple of hours to smarten up your locality or know of an area in need of some tender loving care, then please get in touch. If you want to make a donation for materials, equipment, bulbs/shrubs then we'd also be very grateful. We use local suppliers and for any horticulture supplies we use local social enterprise, Midstream.
Video - Community Litter Pick - 7th March 2015
Video - Planter Renovation - Burscough Road, Ormskirk - October 2015