Changing the Council Culture
Two party politics is failing us in West Lancashire.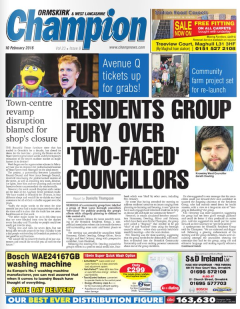 Below is a growing list of examples of why change is needed. If you are civic minded; care passionately about your area and its residents; and appreciate the meaning of public service then come and join us in helping to turn this culture around.
In February, Conservative councillor Sam Currie decided it was more important to appear in the audience at BBC's Question Time than to attend to his duties at an important council committee meeting the same evening.
In October 2017, every single Conserservative councillor walked out of the Borough Council meeting leaving their residents completely unrepresented for half the agenda items. Important topics such as providing additional support for events in Ormskirk and the campaign for pension justice for women born in the 1950's were debated without any Conservatives present.
In March, Carl Eaton who coaches and leads the Skem Men-Aces reluctantly pulled out of standing as an Independent candidate in the local elections after being subjected to abuse for having had the temerity to challenge the Labour one-party state in Skelmersdale.
In July 2017, County Councillor Paul Greenall resigned from the local Conservatives after the Conservative Group on the county council whipped a vote on councillor allowances - something that should be a free vote
In April 2017, a Borough Council Cabinet Member suggested that residents should not be able to sign petitions on certain council matters. The Council Solicitor had to correct him.
In March 2017, County Councillor Nikki Hennessey portrayed taxpayers' grants to local organisations as if the money had come from her and the Labour party.
In October 2016, it emerged that a Conservative councillor, Paul Moon is also a councillor on another Lancashire council. He didn't tell residents in Hesketh Bank about this when he stood for election. He has missed many meetings due to diary clashes between the two councils and there are clear conflicts of interest. We have called on him to resign - a call now supported by a Lancashire MP. Doubts later emerge about whether Cllr Moon actually lives in West Lancashire.
The front page of the Champion Newspaper of 10 February 2016 reported a story detailing that five Labour councillors and a prospective candidate turned up at a resident group meeting and afterwards in emails seen by the Champion discussed how the group needed to be got "shut" of and "banned" from council buildings. The Champion reported that one of the councillors even made "personal comments" about one of the group members.
Councillors appearing (to people in the public gallery) to fall asleep during council meetings
Three members of the same family, who are all councillors, sat on the planning committee in 2014/15. One household is one-eighth of the entire planning committee. Council is supposed to be representative of the local population.
A letter from the local Conservative Association to party members in July 2014 encouraging members to stand for council specifically highlighted the councillor allowance which would be paid.
Labour ward councillors not being bothered to support resident concerns at planning appeals
Seven councillors sit as both Borough and county councillors inspite of frequently having to declare interests which overlap. One Conservative councillor in this situation received more than £42,000 in allowances in 2012-13. One Labour councillor in 2015/16 received over £32,000 in allowances for a part-time public service role while voting through cuts on vulnerable residents.
A letter appeared in the Champion newspaper on 30 July 2014 from a residents association in Halsall complaining that the Labour transport portfolio holder "did not even have the manners to reply" to their resident petition about bus services. A similar letter from an Ormskirk resident was published about the same councillor in summer 2015.
At a presentation on an important new study of the West Lancashire economy - three quarters of Conservative councillors failed to attend and the attendance from Labour was little better. A session on councillors health and safety responsibilities to residents was attended by only 9 out of 54 councillors, inspite of the session being requested by councillors.