Pressing need to boost opportunities for young people at Council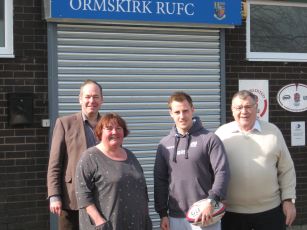 The importance of supporting young people who have recently completed their education/study by giving them the right employment experience and opportunities within their Borough has long been accepted as essential.
Cllr Adrian Owens, Leader of the Our West Lancashire group on West Lancashire Borough Council recently made a plea at the Budget setting meeting, for the Council to support this in a practical way.
He told a full council meeting that only 4.36% of Council staff are under 30 compared to 23.3% of the working age population and that percentage is falling. The need for the Borough Council to encourage employment opportunities by developing a corporate Apprenticeship scheme themselves, is essential as one successful young man shows :
Alex Lambie, 25, (pictured here at Ormskirk Rugby Club where he is a leading player), supports these proposals, has had first hand experience of apprenticeships and work experience and has witnessed this with working colleagues as well as himself.
Alex says,"A lot of the experience I have gained and the skills I developed are thanks to the Apprenticeship I undertook with the Council, it had a big role to play in gaining employment with West Lancashire College. I'm a big believer in Apprenticeships and Work Experience Schemes. From talking to schools and students at the college, one of the biggest worries is not having enough work experience on their CVs and application forms. This proposal should be taking very seriously and could also have a ripple effect, it could encourage more younger people to have a higher engagement in local governance and voting as it did with me."
Cllr Owens believes the Council must move forward in establishing good Apprenticeships and work experience and encouraging wider opportunities within its own workforce to improve the present % figures.
He comments " Alex Lambie is a clear example of how such work experience makes for the beginning of a successful career; I will make this one of the major proposals from the Our West Lancashire Group over the next 12 months".
There should also be increased accessibility to work experience schemes to improve workability skills of young and unemployed people across the District and encourage them to consider careers within the Council.
.