Our West Lancashire support Skelmersdale residents in fight against tip expansion
Say NO to the Whitemoss hazardous waste site extension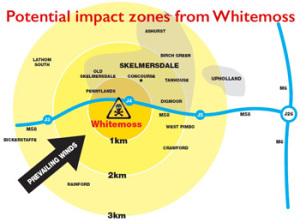 Our West Lancashire are urging supporters to contact Eric Pickles urging him to halt the extension of Whitemoss Hazardous Waste Site. Planning Inspectors have sent a report to Eric Pickles but not told the public what it says. He could make a decision about Whitemoss by March 30.
EMAIL HIM TODAY: eric.pickles@communities.gsi.gov.uk quoting Subject: 'Whitemoss hazardous waste site ref WS010003'
Residents have repeatedly been told that the tip would close, and the Borough and County Councils support local residents in opposition. For more information, check out the website of local campaign group Arrow.
Image above courtesy of Arrow.