OWL Action Plan for pot-holed roads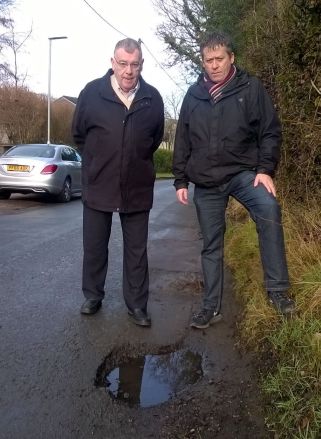 Our West Lancashire activists, Ian Davis and Gordon Johnson are calling for action from the county council and a new approach to West Lancashire's potholed roads.
Ian Davis said, "Last year, our research uncovered that West Lancashire had the worst pot-holed roads in the county. Recently, we learned that Cottage Lane in Ormskirk was voted the worst road in England by long-suffering motorists. Thankfully, it has now been resurfaced, but clearly we need a new approach to tackling road repairs from the county council."
Gordon Johnson added, "That's why Our West Lancashire are promoting a 4-point action plan. Firstly, we need changes to the funding system, so that more money is spent in the parts of Lancashire where the roads are in worst condition. This would mean that West Lancashire would benefit."
"Then we need to make sure that the repairs are completed 'right first time'. I've lost count of the number of repairs that have failed within a few weeks or months, so we would employ more monitors to oversee the contractors who carry out the work."
The other two points in the action plan relate first to quicker repairs as Our West Lancashire say they would employ council staff to inspect road surfaces instead of relying on residents to report potholes.
Finally, the council Independents would abandon the current system which sees potholes repaired in a strict list/priority order and fix all the potholes in a neighbourhood at the same time, reducing travel time and costs.
Ian Davis concluded, "We've been neglected for too long by the powers that be in Preston and having the worst roads in the county is just one example. Instead, we need county councillors in West Lancashire who will fight for our Borough."