Skelmersdale residents quite justified over Christmas decorations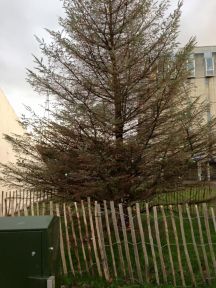 Skelmersdale Residents complaining about the poor quality of Christmas decorations in the town this year are fully justified say Our West Lancashire.
The Independent group have given their support to calls for the council to raise their standards next year adding that local residents should have more say about spending in their local areas.
A Facebook campaign by frustrated Skelmersdale residents shocked at the bare branched Christmas tree (pictured) erected near the Concourse and the number of lights failed on the decorations has quickly won support from across the town.
Our West Lancashire support local area budgets and say that if these were in place then Skelmersdale residents could decide their own priorities for spending which would allow them to decide better Christmas lights was a priority, even if the council continued to ignore resident concerns