Council Leader put on the spot
Residents pose Questions on Potholes and Parking Charges to West Lancashire's Council Leader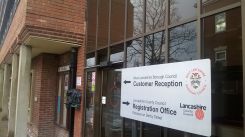 The state of West Lancashire's roads and Labour's promises over cutting car park charges feature in questions asked on behalf of local residents at this week's council meeting by Our West Lancashire.
We have consistently led calls for wide public access to question decision makers. Recently, a public question time has been introduced at some council meetings, but the Borough's procedures for allowing resident questioning are much more restricted than many other councils.
Cllr Adrian Owens commented,"The old saying that two heads are better than one make a lot of sense. No one has a monopoly on wisdom and by encouraging residents to ask questions, the council can improve."
Councillor Owens, pointed to a question Our West Lancashire asked on behalf of local resident, Mark Oakley at July's council meeting. The question was on concerns about the council's website security status. Following Mr Oakley's questions, the council made improvements which mean that the council's website now meets the highest security standards.
"That's why we again invited residents to suggest questions and on Wednesday we'll be asking the Council Leader, Ian Moran questions posed by local residents. He'll be asked questions on the condition of West Lancashire's roads and what happened to Labour's promise to Introduce "Free after Three" car parking in Ormskirk. "