Council should look at purchasing shop units say Ormskirk members of Our West Lancashire
Council not imaginative enough in strategy to revitalise Ormskirk says new party, Our West Lancashire.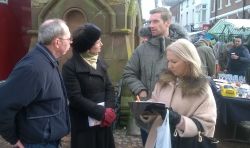 Ormskirk activists for the new local political party, Our West Lancashire have called on the council to explore purchasing shop units in the town to increase their influence in the town centre's future. They went on to say that the public consultation on revitalising Ormskirk town centre, launched by the council last week is not imaginative enough.
Ian Davis, a candidate for the local elections in May said, "If the council purchased some shop units in the town, perhaps some of those that are currently vacant, then it would be able to exercise more control, refurbishing the shops and adjusting rental offers to attract new retailers to the town.
"I was a finance director for many years and still practice as an accountant. Purchasing retail units is also a good deal for local taxpayers. The council has millions of pounds built up in reserves. Yet it is getting a measly return of less than 1% on deposit. Investment in retail units in the town centre would provide a rental stream much greater than that. This is an idea that benefits local council taxpayers too."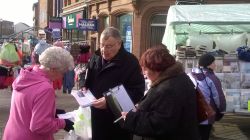 The group of independents, which was launched last week to fight seats in May's local elections, was out today (Saturday) in Ormskirk town centre leafleting shoppers and retailers on their ideas to revitalise the town centre.
They are also calling on the council to introduce a special parking discount for local shoppers.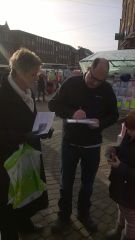 Ormskirk candidate, Jane Thompson said, "The town needs a shot in the arm. Car parking charges are relatively low compared to other towns and the money raised is vital to balancing the council's books, but we think it's time to offer cheaper car parking for local council taxpayers."
The new party say that if they hold the balance of power after May's elections they will press for a special council taxpayer discount at all council car parks that levy a charge.
Ms Thompson said, "We are committed to putting local residents first. That's why we will press for West Lancashire council tax payers to get a concession for one hour's additional car parking free on top of what they have paid on their parking ticket, meaning they would get two hours for the price of one, or three hours for the price of two. Visitors will still receive a warm West Lancashire welcome, but it's right that those who pay council tax to West Lancashire should get something back."
Our West Lancashire councillor, Adrian Owens pointed out that the fledgling party's proposals to save in excess of £200,000 by reducing to one managing director instead of the current two and cutting councillors allowances to the Lancashire average meant that this proposal was easily affordable.
"We had a team of supporters out today and the response we received was very positive", he said.