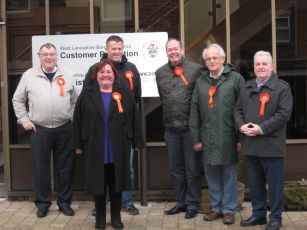 Our West Lancashire, the new Group on West Lancashire Borough Council, have unveiled their candidates, standing for the Group in the May local elections.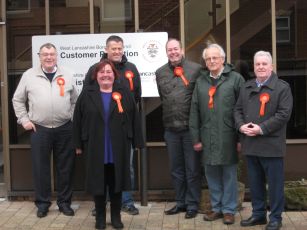 Gordon Johnson – Bickerstaffe Ward
Ian Davis – Derby Ward
Peter Banks – Knowsley Ward
Jane Thompson – Scott Ward
Gerry Latham – Skelmersdale South Ward
Read more about our candidates here
Leader Cllr Adrian Owens said "I am proud to make public our team standing in West Lancashire and who have already been hard at work, on the door steps, of their Wards. My team are all "non-political", working for local issues above party politics.
"Our West Lancashire group, only formed a few months ago, has a growing list of members from Conservative, Labour and Lib Dem back grounds as well as people never before involved in active politics."
He continued, "At present the single independent on the Council holds the balance of power. Independents have already stopped an attempted rise in the Councillors allowance budget and pushed through an end to free alcohol after council meetings. Electing more independents will mean the two big parties will need to listen to the people of West Lancashire. Two party politics have failed in West Lancashire."
"I and my team seek to reduce costs rather than cut services by streamlining senior management and cutting councillor allowances. We would also introduce ward Budgets, funding Local Priorities thereby increasing community involvement."
"The Our West Lancashire team of candidates are here for the people of West Lancashire and we hope those people will make their thoughts known to Gordon, Peter, Jane , Ian and Gerry, as they talk to people over the coming weeks."
Pic L to R: Ian Davis (Derby ward), Jane Thompson (Scott ward), Gordon Johnson (Bickerstaffe ward), Cllr Adrian Owens (Leader), Peter Banks (Knowsley ward) and Gerry Latham (Skelmersdale South ward).