Throwing open the doors of the council
Opening the doors of the council to residents – Ask the council a question at full council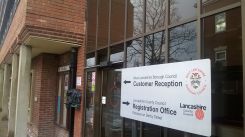 An Our West Lancashire councillor is asking residents if they have any questions that they want to put to the Council Leader at the council meeting later this month
Cllr Adrian Owens said, "In April, I asked the council to introduce public question time at Full council: A right enjoyed by the residents of Preston, Burnley, Rossendale, Hyndburn and Lancaster among many others.
Unfortunately Labour and Conservative decided not to fully support this and instead agreed to a working group which has still to hold its first meeting. As councillors, we must remember that we are accountable at all times."
Cllr Owens said that the Our West Lancashire party would continue to make the case to open the doors of council and let the public in.
He continued, "However, in the meantime, if any member of the public does have a question that you would like to address formally to the council in a public meeting, then I will submit them on behalf of as many readers of this newspaper who submit questions as is practicable".
The next council meeting is Wednesday 22 July, so if you have any questions for the Council Leader, please contact Adrian on adrian@adrianowens.com before Wednesday 15 July.