New Pools for All by 2025
A new community swimming pool and centre in Ormskirk by 2025. That's the policy adopted by Council Independents, Our West Lancashire. The group will also deliver a new facility in Skelmersdale.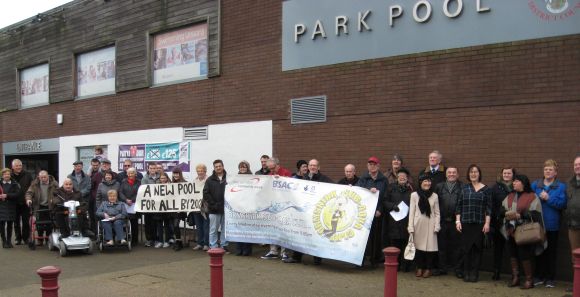 Long-serving, Derby ward councillor Adrian Owens said, "We will fight the local elections in May committed to the construction of new swimming facilities in both Ormskirk and Skelmersdale. Swimming is a social good and children need to learn this vital life skill. Only community facilities can fulfil that role."
In their budget proposals at the council meeting this week, Our West Lancashire have allocated money released by council officers from financial reserves and created New Build Swimming Pool reserves for both Ormskirk and Skelmersdale.
On Sunday 21st February, local residents, supporters and users of Park Pool gathered to show their support for the popular facility (see photo) which was put under threat of closure by the council in the autumn.
Jane Thompson, Our West Lancashire spokesperson for Scott Ward said, "Park Pool is already the most popular council leisure facility in West Lancashire by far, and it makes an operating surplus. A new building would reduce running costs and there are large grants available from the likes of Sport England to assist with building modern swimming facilities fit for the 21st century. Funds from the building of new homes at Grove Farm could also help foot the bill to build the new pool."
Adrian Owens concluded saying, "Independents in Our West Lancashire put residents first and foremost. We don't answer to party whips. It's clear that community swimming facilities is something local residents hold dear and rightly so and we are setting out how we will provide facilities in both Ormskirk and Skelmersdale that our children's children and grandchildren will use long after I and the other current councillors are gone."