Make your voice heard on bus service cuts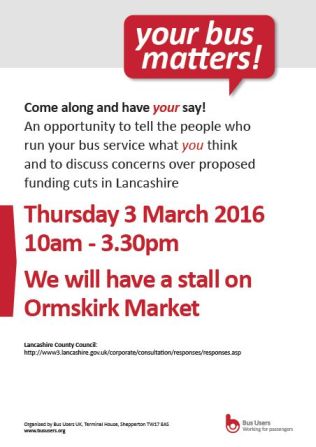 Our West Lancashire activist, Jane Thompson is urging residents to make their voice heard over bus service cuts at an event at Ormskirk Market on Thursday.
Bus services throughout the Borough are under threat and this vital lifeline for many isolated, elderly and vulnerable residents could be cut.
Jane Thompson said, "I sent a petition of approximately 330 signatures to LCC to save the service 5/6 in Ormskirk and Aughton. Other petitions have also been sent in and LCC have been taken aback and seem to be rethinking. I urge ALL residents to 'Have Their Say' AT THE MARKET STALL IN ORMSKIRK on THURSDAY 3rd MARCH, from 10am until 3,30pm . "Our Buses Matter" let's save them , you need to voice your concerns at this event.