960-strong petition against planned green bin charge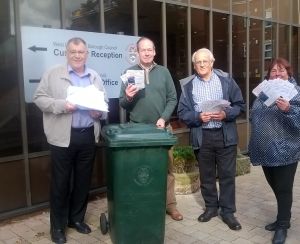 A 960-strong petition was presented this week to West Lancashire Borough Council. It calls on the council to abandon plans for the unpopular £30 green bin charge ahead of the decision-making meeting on 19th October.
The petition was organised by Our West Lancashire, the council Independents and was supported by residents from every single ward in West Lancashire.
OWL councillor Adrian Owens said, "The depth of opposition to this proposal was evident from the comments people have made on the online petition and what people told us when we collected signatures on the street. It is an ill-conceived proposal and when the council underspent by more than £600,000 last year it is unnecessary."
Ian Davis, Our West Lancashire's treasurer said, "I found out that since Pendle council introduced green bin charges the amount of waste ending up in their normal waste bins has increased. It's obvious: Some residents will add their garden waste to their normal waste bins if this charge goes ahead and then we will all have to pay extra to have it sorted or in extra landfill tax."
OWL activist Jane Thompson said, "The sheer number and geographic spread of the petition signatures show that if Labour insists on pushing ahead with this, they will be ignoring public opinion. Last time the public were consulted 72% opposed the charge. Nothing has changed since then. Waste collection services should be paid for as a universal service through council tax. Let's look at Councillors allowances first. They voted themselves to retain the highest allowances in Lancashire and sit pretty while now expecting the residents of West Lancashire to suffer. "
Peter Banks who stood in the local elections for the independents concluded,"The charge will hit those on lower incomes and those without cars disproportionately and also lead to job losses in the refuse teams. The council estimate 65% of residents will not take the green bin service if the charge is introduced so the staff on those collections will find their jobs redundant."