Resident concerns over Ormskirk junction must be heard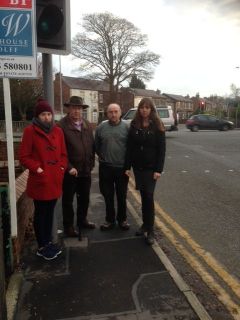 The proposals by the county council to alter traffic flows in Cottage Lane and Halsall Lane in Ormskirk must properly address concerns that some of the proposals will increase road safety hazards and the impact of flooding in Halsall Lane and may negatively affect Fiveways junction say Our West Lancashire.
The Council Independents were contacted by concerned residents who only received a consultation letter this week in spite of it being dated 12 October and have been given only until 9th January to respond.
Local Halsall Lane resident, Joanne Burton told us, "The plans are quite complicated and we are concerned that people will not see the small one way section on Cottage Lane. This will result in the redirection of traffic up Halsall Lane and onto the Fiveways junction. Halsall Lane will become increasingly congested as it will become the only exit route. The road will have all the heavy and light traffic travelling up it, putting pedestrians and especially children walking to school, at risk as they walk on the narrow pavement."
Our West Lancashire spokesman, Ian Davis said, "The plans attached to the letter refer to a council budget for 2014/15, so clearly the council have been working on this for more than two years, but are only giving residents three weeks or so to respond over the busy Christmas period. From a quick look at the proposals the full implications don't appear to have been thought through."
"For example, there is reference to accidents at Fiveways through right turns at the junction but it is not clear if those accidents relate to turning into Halsall Lane from County Road or turning right out of Halsall Lane and no one has yet provided the data. That's crucial as the traffic flow changes being proposed would increase right turns out of Halsall Lane. Now is the time for residents who have concerns to make them known and ask the questions to which answers are required."
Consultation comments should be sent to ormskirk-highway@lancashire.gov.uk by 9th January 2017.