Let's bring back the Christmas Tree by Ormskirk's Parish Church
Community Fundraising Effort Launched to Reinstate Much-loved Christmas Tree by Ormskirk Parish Church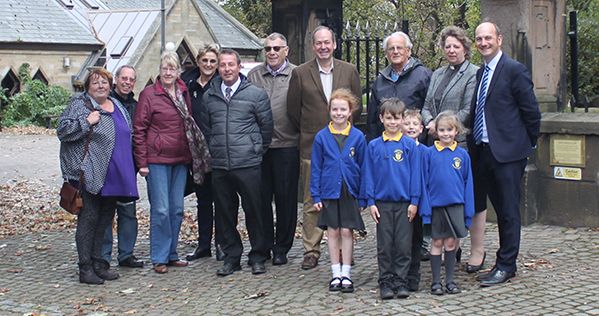 A group from the Ormskirk community led by Our West Lancashire has come together to launch a fundraising appeal to raise funds to reinstate the large Christmas tree by Ormskirk Parish Church. The tree and crib were a much-loved feature of the town's Christmases until falling victim to council cost-cutting in 2016.
Our West Lancashire, Ormskirk Parish Church, Ormskirk Church of England Primary School along with Scott's Butchers and other Church Street retailers have now joined forces to launch a community fundraising appeal to reinstate the tree this Christmas.
Councillor Adrian Owens said, "We've already received a kind offer from Steve Massam Landscape Supplies to work at cost price and they have identified a lovely 26 foot Norwegian Spruce and the Parish Church have made insurance arrangements. The Borough Council have agreed to fund the electricity costs for the lighting and allow use of their electrical supply, so things are well underway. Now we need the people of Ormskirk to dig deep with donations so we can put this tree in pride of place for visitors to the town centre to enjoy."
Rev Pauline Bicknell, Priest-in Charge at the Parish Church said, "As soon as I arrived in Ormskirk in August, people were approaching me asking if we would have the Christmas tree back again this year, so when Our West Lancashire approached me I was clear that we would play our part. I'm particularly grateful to Patrick Waite from church, who, despite failing health, was keen to see the tree back outside church and active in liaising with others to make sure this happened."
Giles Storch, Headteacher at Ormskirk Church of England Primary School said, "For children, Christmas is a special time of the year and the tree with the crib set against the floodlit parish church is a wonderful scene, and was sorely missed last year. We are already planning our fundraising effort towards the target." All the other primary schools in the town have also been invited to get involved.
Stuart Mills from Scotts' Butchers commented that last year the retailers on Church Street particularly felt a blow from the tree not being in its usual place by the church. "I've been speaking with fellow retailers in Church Street and we are joining this fundraising effort to reinstate the tree. We have a collection tin in our shop on Church Street and anyone who wants to donate should drop in with their contribution. If every shopper in Ormskirk gave us the change from their shopping trip we would soon have the tree funded."
The project needs to raise £980 to cover the costs and ensure the project goes ahead. Donations can be made into the collection tin at Scott's Butchers in Church Street; by cheques made payable to Our West Lancashire and marked Christmas Tree appeal on the rear of the cheque; or online in the right hand column of this page.