Welcome for use of stickers to guide new residents in what waste goes where
Welcome for use of Stickers on Waste bins to guide new Student Residents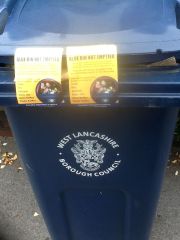 The Borough council has started to use information stickers on waste bins in Ormskirk in a move welcomed by members of Our West Lancashire who live in the town who say they first suggested the idea more than 12 months ago.
The stickers used by the council on waste bins explain to new residents in the town at this time of year, especially students, what items should be placed in which waste bin.
Peter Banks said "The autumn sees a lot of changes in occupancy in properties in Ormskirk. Students especially are often living in their first property and they need clear instructions that won't easily get lost to know what to do. Previously, recycling information was included in the special student publication, Streetwise but this could easily get lost or not be seen by everyone in the property."
Jane Thompson said, "I live on Station Road and there are a number of student properties in the area. Often waste is placed in the wrong bins and so overflows and gets blown by the wind making the area a mess. No wonder the council have to carry out more street cleaning in term time.
I wrote to the council more than 12 months ago suggesting that stickers would give a more effective and permanent reminder to new residents about what to place in what bin. There are few if any other low cost measures that will give as much impact as this simple measure and I'm delighted the council has acted on my suggestion."