We're Listening to West Lancashire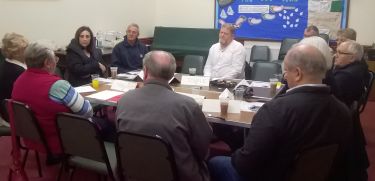 As previously announced, local independents, Our West Lancashire held the first of their regular listening groups made up of a variety of West Lancashire residents , to discuss relevant and important local issues.
The first of these Groups met on Tuesday 22nd September – the next ones will take place in November 2015 and January 2016.
The issues for discussion on this occasion were Ormskirk and Skelmersdale town centres and the issue of Transport in the district.
It was a lively discussion with many issues raised, discussed and agreed (or not !) and Councillor Adrian Owens, leader of Our West Lancashire said at the end of the discussion, "Ten people from across the district of differing political affiliations gave their input and I listened intently to their different perspectives.
I am very grateful to them for giving their time as it allows Our West Lancashire to better reflect local opinion in the council chamber. The facilitator will also be producing a summary report of the discussions which I will convey to senior council officers."
One of those taking part in the Group agreed that at last "ordinary people" were having a chance to make their voice heard. She said she looked forward to being one of the regular panelists on Listen to West Lancashire.
Cllr Owens said that the listening group was part of a wider "Listening to West Lancashire" initiative which would include surveys and social media.
If anyone is interested in being considered to join the panel for future meetings, please ring 01695 351361 and leave a contact number or use the contact form.