Resident action while councils squabble
Resident Action sees Makeover of prominent Ormskirk Planter – Councils squabble over who is responsible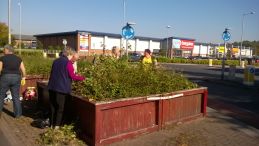 A planter has been completely renovated and replanted after frustrated local residents from Our West Lancashire got fed up with inaction as West Lancashire Borough and Lancashire county councils squabbled about ownership.
Station Road resident and Our West Lancashire spokesperson for Scott ward, Jane Thompson organised a group of 8 local residents to spend an afternoon removing weeds; planting bedding plant and bulbs; and varnishing one of the three planters which stand on Burscough Road opposite the Hattersleys Business Park.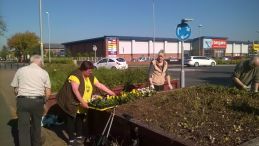 Jane Thompson said, "I had sent email after email to both councils to be met with non- committal responses. Finally, a response from Lancashire county council admitted that 'There is at present an ownership issue between the Lancashire County Council and West Lancs Council over the maintenance of the planters".
"That's simply not good enough. The planters have been deteriorating and give a disgraceful image for people travelling into Ormskirk on a main road. Residents were also complaining to us that the overgrowth in the planters were affecting visibility at the road junction.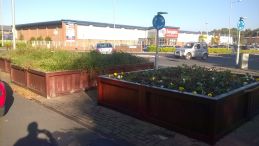 "So, I got together some local residents and some members of Our West Lancashire and between us in 2 hours we completely renovated one planter to show what is possible. Now we are saying to West Lancashire Borough and Lancashire county councils, stop your squabbling and start looking after Ormskirk. After all that is what we pay our taxes for."
See the short 2 minute video of the Makeover below