Getting stuck in to clear a bad grot spot
If there is such a thing as "extreme" litter picking, we came close on Saturday among the brambles and thorny bushes at the rear of Hattersley's Business Park.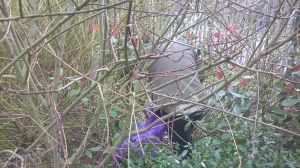 Ably organised by Jane Thompson, Our West Lancashire members and local residents from the Pines Estate, Westhead and Aughton – nine in total – cleared litter from behind the mesh fencing which runs along the busy footpath that leads from Old Boundary Way towards the rail station and the school on Greetby Hill. Some of the team of volunteers went into corners of The Pads and supplemented the litter clearance carried out so well by the council's Park Rangers earlier in the week.
Jane Thompson said, "Thank you to all those who came and made such a tremendous difference. We've been running Community Action Days since Our West Lancashire was launched and more and more local people have now taken part."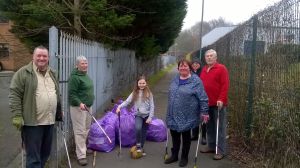 Our next community action day is Saturday 26th March in conjunction with Ormskirk's Wellbeing Centre. The Centre recently had ALL its council funding cut but is very much still open for business, so if you can spare an hour to shake a tin and help them raise funds for our area's older people, then please contact us.