We Did It! Vital local bus service saved
We Did It! 5/6 bus circular to Scott Estate and Town Green saved.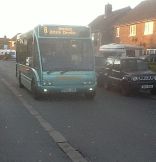 Scott ward activist Jane Thompson who led the campaign to save this vital lifeline with a 330 name petition says Thank you.
"By working together with our petition, the 5/6 bus service has been saved for at least the next 12 months.
But it was a close run thing. Only 16 services were saved in Lancashire. In contrast, 61 have been axed or massively reduced."
The 3a service from Wrightington to Ormskirk, another service Our West Lancashire were concerned about appears to have been significantly altered. We await full details but we are thankful it will run in some form.
Jane Thompson continued, "Make no mistake without the huge demonstration of public support for this service it would have been cut. Only a small minority of bus routes were spared."
Once again this shows what residents can do when they work together and it is another achievement for Our West Lancashire, the council Independents who put residents first and foremost."