Ormskirk churchyard spruced up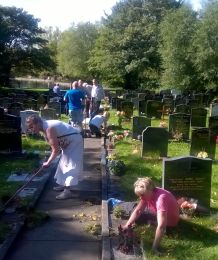 Two dozen local residents helped spruce up Ormskirk parish churchyard this weekend, clearing 55 bags of vegetation, weeds and detritus. Our West Lancashire members, including Ormskirk activists Jane Thompson and Peter Banks were joined by local residents including some with family members buried in the churchyard and some who had expressed concerns over the summer about its overgrown state.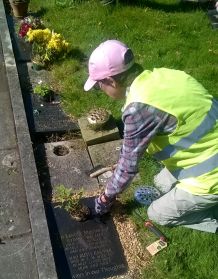 Cllr Adrian Owens said, "With two hours' effort we made a striking improvement to the paths in the newer section of the graveyard and to the children's section. Interest was high: Residents came from Burscough and Skelmersdale as well as Ormskirk to help and there were several comments about running such an action day again."
"We'd like to thank Jim Reid from the church council for his input and help and hopefully visitors will enjoy and appreciate the difference the next time they walk through this peaceful and historic corner of our town centre."
Before and after photos of the main path are shown below.
Before the spruce up

After the spruce up
To read more about our community action and suggest a future project look here.