West Lancs Roads the worst in Lancashire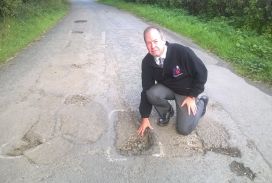 Figures released by the county council show that West Lancashire's roads are the worst in Lancashire say council Independents, Our West Lancashire. They are now calling for West Lancashire to receive a greater proportion of the funds available to repair the Borough's crumbling roads.
A Freedom of Information request has revealed that 2214 defects were reported in the first 3 months of this year in West Lancashire, much higher than any other Lancashire Borough and more than 3 times more than the Boroughs with the best maintained roads in the county.
Cllr Adrian Owens who obtained the figures said, "These figures confirm my hunch from travelling around Lancashire – West Lancashire's roads are the worst in Lancashire. It's clear we are not getting a fair deal from the county council. In any organisation, maintenance funds should be spent where they are needed, but many potholes and defects in our area remain unrepaired months after being reported, while the county council spends millions on roads in the rest of Lancashire."
Cllr Owens continued, "Earlier in the year we found out that parking enforcement staff had been diverted from West Lancashire to Preston. Now we find that we're getting a raw deal on road repairs. It seems clear that West Lancashire is being neglected by the current county council."