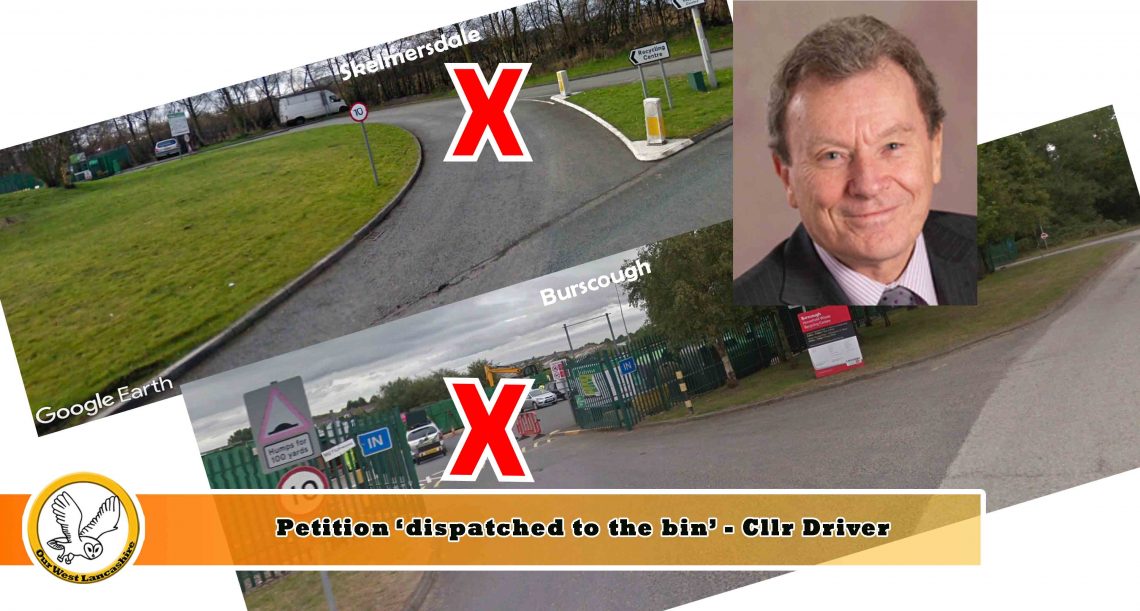 "Rude and Petulant" County Council Leader
"Rude and Petulant" County Council Leader starts to shift position on waste tips
County Council Leader dispatches resident concerns to the bin, yet hours later starts to shift position on re-opening waste sites
County Council Leader, Geoff Driver has been criticised by an Independent Borough Councillor after he described resident concerns over the closure of household waste sites as a waste of time and said he had "dispatched to the bin" a petition from more than 260 concerned West Lancashire residents.
Ormskirk Councillor Kate Mitchell from Our West Lancashire, described Cllr Driver's outburst as "rude and petulant". She continued, "As Leader of the County Council, he should reflect on the concerns of local residents who signed this petition and the many others from across Lancashire including our Borough Council Leader, Ian Moran and the other political groups at County Hall. His response was a disgrace to democracy."
However, within hours of the petition being received, Lancashire County Council shifted their position, issuing a new press statement in which they talked about plans for a re-opening of the waste and recycling sites.
Cllr Mitchell said, "It seems our petition, along with many other voices, has helped to shift Lancashire County Council forward. Our petition called for a plan for a controlled re-opening of the sites, and it seems that is now what the County Council are moving towards. What a pity that County Councillor Driver has to be so dismissive of the views of Lancashire residents that he binned those concerns immediately upon receipt."
Change in County Council's approach reported in the afternoon of 29th April 2020 https://www.lancs.live/news/lancashire-news/new-lancashire-county-council-statement-18170697