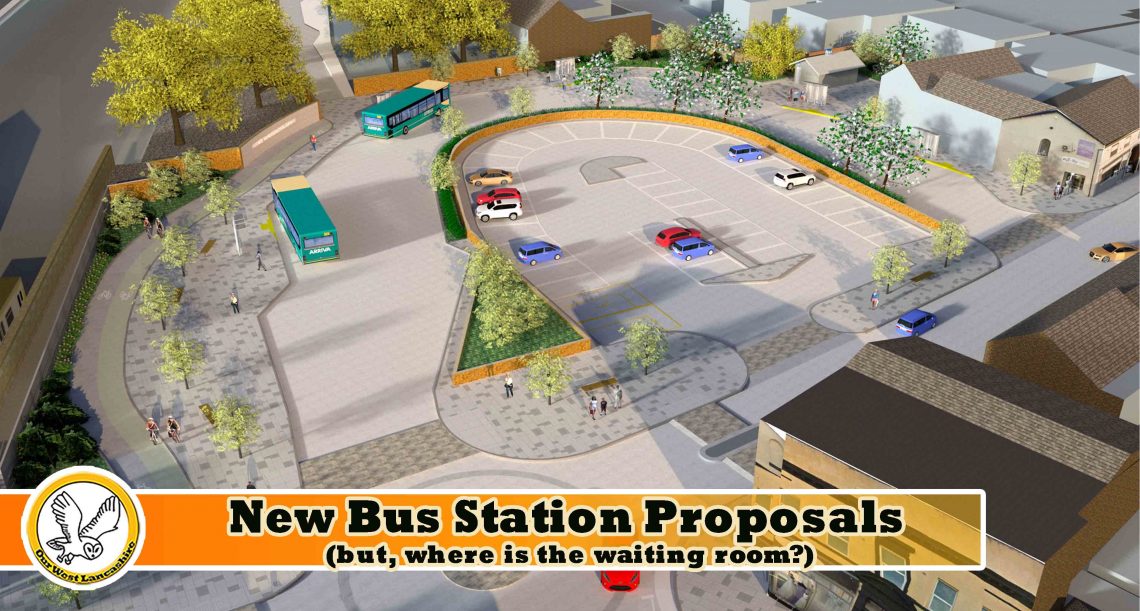 New plans for Ormskirk bus station are 'an improvement on the last proposals', but concerns remain.
Revised plans for the redevelopment of Ormskirk Bus Station are a big improvement on the previous plans say Our West Lancashire councillors from the town, but the lack of a waiting room and other concerns need ironing out in the new plans.
Cllr Jane Thompson from Scott ward said, "I'm delighted that the plans for a 4-storey building for students have been scrapped and that the car park on the site is being retained but the proposals leave a very open site with less facilities than we had previously. It's not clear where Dial-a-Ride would be accommodated for example and expensive paving isn't the be all and end all." (continues after gallery)
Cllr Thompson's colleague, Cllr Kate Mitchell added, "The purpose of any bus station redevelopment must be to encourage greater bus use. Yet this proposal provides no waiting room, only open bus shelters. A heated waiting room with wifi, USB chargers and the like and a small shop concession or even a vending machine would improve what we have currently. Instead, this feels like a step backwards and not a bus station at all."
Long-serving Derby ward councillor Adrian Owens said the proposals were a step in the right direction but urged local residents to respond in their hundreds to the council consultation.  "There is a danger that the views of the public will take second place to the wish list created by officials", he said.  "This is part of a £2.4 million project.  I was disappointed to see that the suggestion is that if more funds can be found a store room and market office be created in the proposed toilet block rather than creating a waiting room that would encourage more people to use the bus.  It's also a concern that the entire remaining funds for the cycle route to Edge Hill would be used without that project being completed risking a cycle route to nowhere".
Previous articles about the proposals: